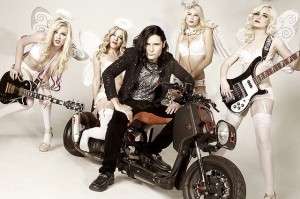 Silver Screen Star Introduces All-Blonde Lingerie Clad Female Rock Band
LOS ANGELES, CA – Corey's Angels is a °360 management, development, and production
entity, which also throws large scale private events and concerts. Corey's Angels has produced
several music videos, two television pilots, a double album, and a ten episode talk/variety show.
The Angels have appeared in films such as Body High and even as guests on shows like the
CW's LA Rangers and are currently shooting an ABC production for a special episode of a
popular show.
Corey's Angels picks girls who have the triple threat of talent, looks, and heart and each girl is
hand-picked by Corey and must feature all of these traits. Courtney Anne Mitchell was the
world's first official Corey's Angel after starting her care...
Read More